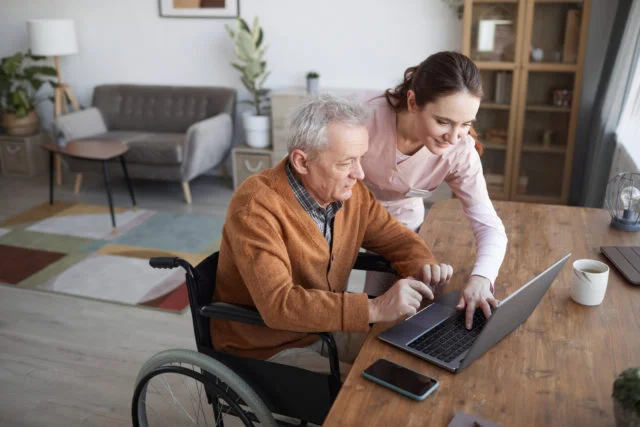 The Cost of Having a Disability in COVID
In COVID's early months, millions of workers' incomes dried up as the unemployment rate skyrocketed. But older Americans were somewhat shielded from the downturn.
That's because they either are over 62 and on Social Security or receive federal disability benefits every month at higher rates than young adults. And just like everybody else, they got relief checks from Congress to soften the blow from the pandemic.
Yet, despite the reliability of a government check, older Americans with disabilities suffered from "acute financial insecurity," according to a new study that seeks to understand why.
During the pandemic, people over the age of 50 with disabilities reported having much more difficulty paying for food than people without a disability. They also showed more signs of financial distress, including missing a payment on a credit card, utility, or medical bill, researcher Zachary Morris found.
But the heart of his analysis of household financial data was confirmation of his suspicion that a loss of income was not the primary reason that financial insecurity increased for people with disabilities during the pandemic.
Much of the strain came from higher spending likely resulting from rising costs for disability-related items such as prescription drugs like insulin, assistive technologies, and personal protective equipment to protect themselves during the stay-at-home orders. A 12 percent increase last year in the cost of home health aides was a prime example that hit people with disabilities particularly hard.
The study identified rising disability-related expenses as a major financial burden for Americans with disabilities during the pandemic. However, Morris said more research is needed to identify the types of costs that have increased and design policies that can alleviate the financial insecurity too often experienced by people with disabilities.
To read this study, authored by Zachary Morris, see "Understanding the Increased Financial Hardship Experienced by Older Adults with Disabilities during the COVID-19 Pandemic."
The research reported herein was derived in whole or in part from research activities performed pursuant to a grant from the U.S. Social Security Administration (SSA) funded as part of the Retirement and Disability Research Consortium. The opinions and conclusions expressed are solely those of the author and do not represent the opinions or policy of SSA, any agency of the federal government, or Boston College. Neither the United States Government nor any agency thereof, nor any of their employees, make any warranty, express or implied, or assumes any legal liability or responsibility for the accuracy, completeness, or usefulness of the contents of this report. Reference herein to any specific commercial product, process or service by trade name, trademark, manufacturer, or otherwise does not necessarily constitute or imply endorsement, recommendation or favoring by the United States Government or any agency thereof.