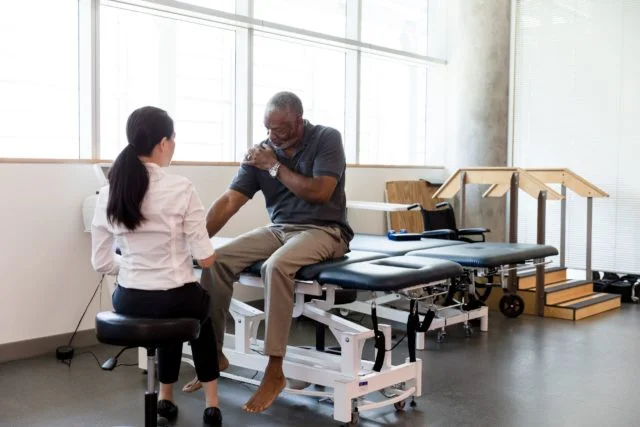 How Older Workers Adapt to New Disability
One in four workers who are still healthy in their mid-50s will experience a disability in the next few years that will make working more difficult.
Sometimes the disability stems from a sudden medical problem such as a heart attack, but many disabilities are just the accumulated wear and tear on aging bodies or chronic medical conditions that get worse.
Whatever the cause, a new study in the journal Research on Aging finds that late-life disabilities often force older workers into early retirement. Nearly three-fourths of the workers who experienced a new disability in their late 50s or early 60s had left the labor force before their full retirement age. Among the people who didn't have a disability, only a third had stopped working.
The researchers also looked more closely at those with disabilities who did continue to work. Were they able to transition into a new job or occupation that might accommodate their condition? Do they earn less?
The answer to both questions seems to be yes.
Linking a long-running survey of older Americans with occupational data, the researchers checked in on the workers who did not have a disability at age 55 to see how they were faring at 59, 63 and 67. Occupational changes were fairly common when they remained in the labor force after developing a disability.
This might mean moving from a physically demanding construction job to Uber driver or from school teacher to editor of educational materials. Finding a job in a different occupation potentially creates a bridge that accommodates the older workers' desire to keep working and delay retirement.
At age 59, for example, two-thirds of the people with disabilities who stayed in the labor force had switched occupations, compared with less than a third of the other workers. Once a disability sets in, "staying in the same occupation is difficult," the researchers concluded.
The people who develop a disability sometime after their mid-50s also earn perhaps 15 percent less than those who are disability-free at 67.
The researchers suggested policies to prevent so many workers with disabilities from quitting prematurely. These include programs to support career changes through retraining or employer efforts to better accommodate workers with late-onset disabilities.
The journal article is based this study, authored by Jody Schimmel Hyde, April Yanyuan Wu, and Gina Livermore: "New Health Limiting Work Events and Occupational Transitions Among Older Workers."