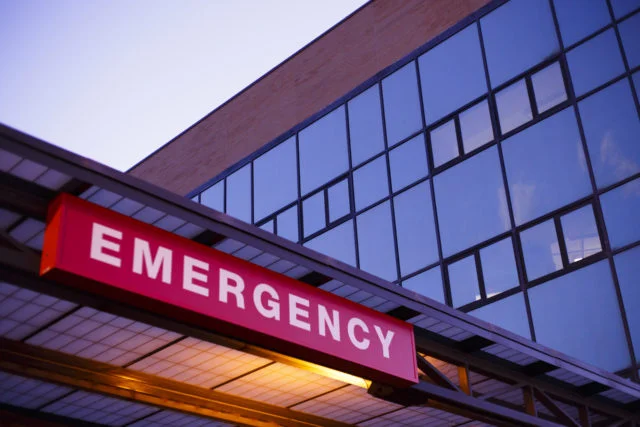 A New Link Between Opioids and Disability
Picture a worker who has an injury so traumatic that he or she is rushed to the emergency room. A doctor prescribes an opioid to ease the pain.
A new working paper adds to the growing evidence that taking opioids, even when necessary, can have serious long-term consequences for workers' career paths.
Michael Dworsky at RAND found that workers who received prescription opioids after visiting Colorado emergency rooms were far more likely to enroll in Medicare before turning 65 than people who didn't get a prescription to treat an injury. Starting Medicare before 65 almost always indicates that someone has left the labor force and is receiving benefits from Social Security Disability Insurance, the primary social program for workers with disabilities.
Dworsky reached similar findings in three different analyses, which used Medicare enrollment within four years of an emergency room visit as a rough proxy for whether workers are receiving the federal disability benefits.
People who had taken opioids prior to being injured were the most likely to leave the labor force. After an emergency room visit resulted in a new opioid prescription, more than 2 percent of the previous users wound up on Medicare and disability – a rate that is four times higher than for traumatic-injury patients who had never previously taken opioids.
Dworsky also examined the morphine-equivalent doses that were dispensed to patients over time. The probability of receiving prescription opioids spiked immediately after workers' injuries and then stabilized at a higher level than before the injuries.
This is the first research to indicate that opioids affect labor force activity at the level of individual workers. Another recent study looked at geographic differences and showed that counties with high opioid prescribing rates had lower employment.
In two other comparisons, the researcher found more indications of opioids' damage to careers: one was limited to patients who had never used opioids and a second comparison was among people who had used them in the past. In both cases, the people who got a prescription from a doctor were two times more likely to go on Medicare than similar patients who didn't take a prescription home.
Dworsky said he also tried unsuccessfully, through a different statistical method, to answer a question at the heart of opioid research: do prescription opioids cause people to leave the labor force and enter the disability program? His analysis didn't provide sufficient evidence of that, which might be an indication that chronic pain resulting from traumatic injury both reduces labor force participation and increases the use of prescription opioids.
The researcher has, nevertheless, provided some new information about the risk workers face when they start taking opioids. But, he said, more research is needed on the causal relationships between pain, opioid receipt, and work disability.
To read this study, authored by Michael Dworsky, see "Do Prescription Opioids after Traumatic Injury Increase the Risk of SSDI Entry? Instrumental Variable Estimates from the Colorado All-payer Claims Database."
The research reported herein was derived in whole or in part from research activities performed pursuant to a grant from the U.S. Social Security Administration (SSA) funded as part of the Retirement and Disability Research Consortium. The opinions and conclusions expressed are solely those of the author and do not represent the opinions or policy of SSA, any agency of the federal government, or Boston College. Neither the United States Government nor any agency thereof, nor any of their employees, make any warranty, express or implied, or assumes any legal liability or responsibility for the accuracy, completeness, or usefulness of the contents of this report. Reference herein to any specific commercial product, process or service by trade name, trademark, manufacturer, or otherwise does not necessarily constitute or imply endorsement, recommendation or favoring by the United States Government or any agency thereof.