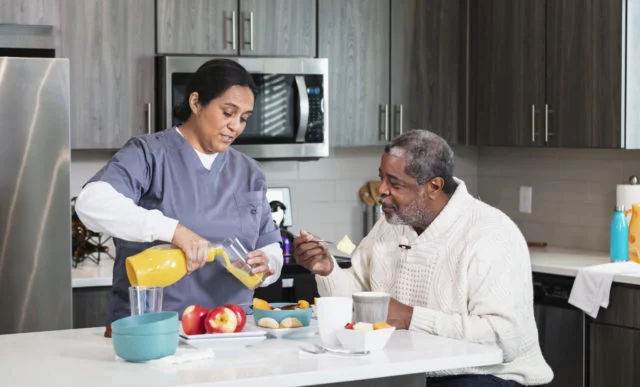 COVID's Toll on Minorities with Disabilities
It's been well documented that the COVID recession and layoffs in 2020 were particularly hard on Black, Hispanic, and Latino Americans. But if they had a disabling physical and medical condition, they felt it much more.
In a new study examining the cumulative impact of having a disability combined with the disadvantages of being an older minority worker or retiree, the racial disparities were apparent on a variety of fronts – in the inability to pay for essentials, at work, and through some difficulty obtaining medical care.
Past research has shown that once the pandemic hit, people with disabilities, who tend to have lower incomes, had an even tougher time financially than in the years prior to COVID. The racial aspect of these hardships was explored in this new research, as dramatized by the difficulty some Black, Hispanic, and Latino people with disabilities had paying their rent or mortgage.
During the height of the pandemic in 2020, paying for housing was a problem for about 13 percent of them. That was about four times the rate for Whites with disabilities and was also a much bigger issue than Blacks, Hispanics, or Latinos without disabilities faced.
Racial differences were also evident when people of color with disabilities tried to buy another essential: groceries. One in five said they couldn't afford all the food they needed – roughly three times the rate for Whites with disabilities and about twice the rate for Hispanics, Latinos and Blacks without disabilities.
In the pandemic's first year, the source of financial problems were the millions of layoffs or cuts in hours in a short period of time. The researchers confirmed that older Blacks, Hispanics, and Latinos with disabilities experienced these disruptions at higher rates than Whites with disabilities and their counterparts without disabilities.
Dramatic disparities could be seen within the subset of Black, Hispanic, and Latino workers with disabilities whose employment was affected in some way. Almost two out of three had to stop work entirely, compared with less than half of Whites with disabilities.
All adults with disabilities were also considerably more likely to delay getting health care generally. However, Hispanics and Latinos in particular said they had to delay filling their prescriptions, while both Blacks and Whites with disabilities were more likely to delay surgeries.
COVID has receded, and the job market is strong, despite talk of a recession. But another pandemic remains a possibility.
In future public health emergencies, "a robust, disability-inclusive public health response," the researchers said, "could provide additional protection to this vulnerable population."
To read this study, authored by Marisa Shenk, Amal Harrati, Bernadette Hicks, and Ana Quiñones, see "Racial Disparities in COVID-19 Experiences among Older Adults with Disabling Conditions."
The research reported herein was derived in whole or in part from research activities performed pursuant to a grant from the U.S. Social Security Administration (SSA) funded as part of the Retirement and Disability Research Consortium. The opinions and conclusions expressed are solely those of the authors and do not represent the opinions or policy of SSA, any agency of the federal government, or Boston College. Neither the United States Government nor any agency thereof, nor any of their employees, make any warranty, express or implied, or assumes any legal liability or responsibility for the accuracy, completeness, or usefulness of the contents of this report. Reference herein to any specific commercial product, process or service by trade name, trademark, manufacturer, or otherwise does not necessarily constitute or imply endorsement, recommendation or favoring by the United States Government or any agency thereof.