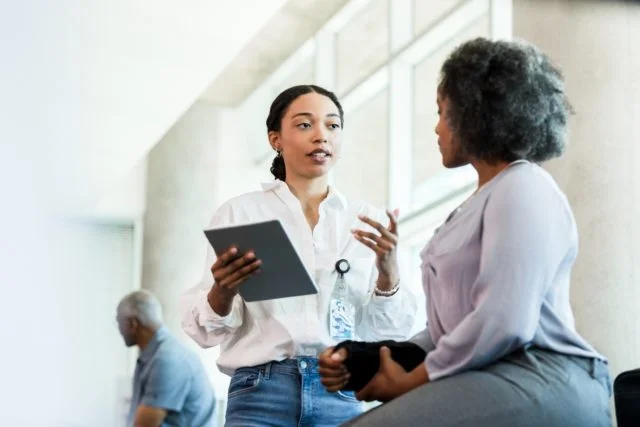 Her Home Purchase Builds Children's Wealth

There is joy in owning one's first home. But homeownership has a deeper meaning for Robin Valentine.
Unlike her late mother, who was unable to leave any money to her children, Valentine will one day pass on the house that she purchased last September to her three children.
"I told my children, 'If anything happens to me, and you don't want to stay here, that's fine. Take the money [from selling the house] and put it towards your home,' " she said. "It's more than just me buying this house and living in it. It's for me to leave a legacy."
Valentine, who is 52, is accomplishing something that historically has proved difficult for African-Americans like herself: building intergenerational wealth.
For most workers, a house is their largest source of wealth. But the homeownership rate in the Black community is dramatically lower than for whites for reasons ranging from mortgage discrimination to insufficient income. When Black people do own houses, their properties hold significantly less wealth. The typical Black homeowner had $4,400 in home equity in 2020, compared with $67,800 for white homeowners.
With sheer determination, Valentine, an administrative assistant in academic services at the University of Massachusetts-Boston, overcame numerous obstacles to buying a house.
She attended college but had to drop out because she couldn't afford it. It took about eight years to pay off $20,000 in student loans and credit card bills after a divorce from an abusive marriage. For seven years after that, she saved for a down payment by resisting any purchase that wasn't essential. Once a year, she would ask the bank for a mortgage preapproval to see if she could afford a house yet.
"I just kept saving every little penny I could save," she said.
Last July, Valentine paid $275,480 for a three-story townhouse in Boston's Dorchester neighborhood. Her mortgage payment is $1,635 – not much more than she paid to rent a subsidized apartment under the federal Section 8 program.
She got big assists from two government programs and a non-profit. One program is overseen by the U.S. Department of Housing and Urban Development (HUD). Under HUD's Family Self-Sufficiency Program (FSS), the non-profit Compass Working Capital partners with local housing authorities to help tenants like Valentine get a foothold in the housing market.
Tenants in subsidized housing typically pay rents that are based on their income. As a tenant's income increases, so does the rent they pay to the landlord. This reduces the rent subsidy the housing authority pays to the landlord. Under the FSS program, the housing authority sets aside the amount of the rent increase in an account the tenant can use to reach financial goals – whether buying a house or car or paying off debt.
The HUD program "is the largest wealth-building program the federal government has for families with low incomes, said Compass spokeswoman Marikate Taylor. But only about 65,000 of the 2.2 million households that are eligible are currently participating in the program.
Valentine won the right to buy the house in a second government program – a lottery run by the city of Boston. First-time homebuyers who apply to the program must fall under certain income limits to purchase affordable homes constructed on city land.
Her heroic effort to finance the house wasn't as hard as the emotional aspects, she said. She deprived her children – Alanna, a 21-year-old college student, and Alexander, 14 – of vacations and felt guilty that it took so long that her oldest daughter had already moved out.
But with dogged persistence she reached her goal. "I wanted to own a house for as long as I've been an adult," she said.
Squared Away writer Kim Blanton invites you to follow us on Twitter @SquaredAwayBC. To stay current on our blog, please join our free email list. You'll receive just one email each week – with links to the two new posts for that week – when you sign up here.  This blog is supported by the Center for Retirement Research at Boston College.